Candelabra
Item# H-98SH-275X Candelabra
Price: $695
Item Information: H-98SH-275X
7 Light Candelabra with 7/8" sockets.
Shown as a set of 2 - Each candlestick sold separately.
7 Light Candelabra arms set onto of H-98-8.5" candlestick.
Matches our complete H-98 Altar products collection.
Sizes:
H98 candlestick = 8 1/2" tall. H275 Candelabra top = 14" tall and 16" wide. Total height 22 1/2" tall x 16" wide. 7/8" candle sockets.
Weight (lbs):
6.6 lbs.
Matching Items:
For a visually pleasing Altar our H-98 Altar product collection includes, Multiple height candlesticks-8.5", 12", 18", 24", 42", 48". Paschal candlesticks, Sanctuary lamps, Altar crosses, Censer stands, Processional crosses, Base stands, Processional candlesticks, Missal stands and more. Simply search our H-98 collection.

ORDER NOW
Email To Friend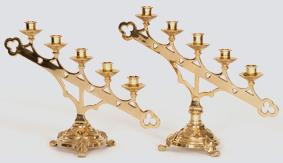 Candelabra
Since 1881 Adrian Hamers Inc. has adorned the church with world class candelabra. 
With many solid brass traditional church candelabra styes to choose from to decorate your altar.
3 Light Church Candelabra
5 Light Church Candelabra
7 Light Church Candelabra
Antique Candelabra
Gold Plated Candelabra
Silver Plated Candelabra
Solid Brass Candelabra
Wedding Candelabra
Candle Followers for Candelabra
Church Candelabra
Religious Service Candelabra
Church Supply
WE ACCEPT