Bishop Regalia
Item# H-28 Brass Bishop Bugia
Price: $395
Item Information: H-28
Traditional Brass Bishop Candle Bugia.
Polished Brass and Lacquered.
Sizes:
7/8" candle socket, 14" Total Length, 2 3/4" Total Height, 6" Total Diameter
Weight (lbs):
1.2
Available Finishes:
Brass, Gold plated

ORDER NOW
Email To Friend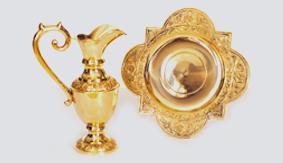 Bishop Regalia
Since 1881 Adrian Hamers Inc. Has been known for supplying Catholic dignitaries with the finest jewelry.
Bishop Regalia has always been the pride in our company. We offer a full line of bishop items.
Crosiers
Bishop Episcopal Staff
Bishop Pectoral Cross
Bishop Mitre and Chain
Bishop rings
Bishop Wax Seal
Bishop Candle
Bishop Candle Bugia
Metropolitan Cross
Holy oil containers
Oil Stocks
Lavabo sets
Flagons
Celebration Censers
Holy Water Buckets
Washing of the feet Bowl and Pitcher
Bishop Wax Seal
WE ACCEPT